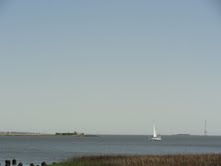 Three men who were boating while intoxicated ( or commonly referred to as a "BUI") has been charged on two separate counts for deadly boating accidents back in May earlier this year.
The Department of Natural Resources have released this information stating that both men, by the same first name, were charged with BUIs, and for the deadly boating accidents they caused.
The third defendant has only been charged with boating while intoxicated.
In the first accident, two 25-year-old females were killed while the first two defendants were driving the boat while under the influence, and somehow the girls were thrown overboard.
The Department of Natural Resources reports that the second accident occurred when the three men were on the boat and collided with another. They took the lives of a 21-year-old male and their 340year-old friend that day.
It has not been released why only two of the men are being charged with "deadly boating accidents," as well as the BUIs, and the third man is only being charged with a BUI.
The BAC level of all three men have yet to be released, but it is safe to assume that it is at least a .08 or higher.
If you have been involved in a serious boating accident or been charged with a BUI in South Carolina, contact the law offices of Reeves, Aiken, and Hightower, LLP toll-free at 877-374-5999  for help with your case.