Earlier this month a car and tractor-trailer were involved in a deadly crash that seriously injured three individuals.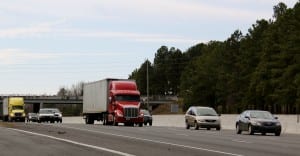 The accident occurred on May 2nd, right on the North Carolina and Virginia boarder on Interstate 77. This is a very typical spot for accidents to occur due to the curvaceous roads that bind the two states.
According to the police reports, driver of a small sedan lost control of his vehicle and crossed over into the fellow driver's lanes. Particularly, he crossed the path of a FedEx truck/tractor-trailer,  who was making a haul to Harper's Ferry at the time.
Upon impact, the tractor-trailer caught fire and bursted into flames. It is believed it may of had some hazardous materials inside. The Hazmat crew was called to the scene immediately.
Luckily, nothing leaked out of the containers in the tractor-trailer,so the flames were able to be contained. The crew took about 4 hours to clean up the debris; blocking two of the four lanes on the highway.
One of the driver's was taken to the closest hospital via helicopter, while the paramedics drove the other two injured parties to the hospital by ambulance.
For more information on serious tractor-trailer accidents and injuries, contact the law offices of Reeves, Aiken, and Hightower, LLP toll-free at 877-374-5999.