Two injuries occurred after a vehicle collision that occurred in North Charlotte.  Charlotte-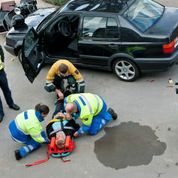 ecklenburg police said that the two pedestrians that were injured were hit on West Sugar Creek Road just off the I-85 ramp by a truck that was entering the ramp entrance.
The two victims were taken to a local hospital with serious injuries.  One of the victims reported to have a fractured leg.  They were taken to CMC Main, and officers spent a few hours attempting to clear the scene.
If you or a loved one has been injured in an accident, whether it be as a pedestrian or as a driver in a vehicle, call the law offices of Reeves, Aiken & Hightower, LLP for a consultation.  We can determine, with the help of the reports, whether negligence was at hand, and whether someone should answer for the injuries that were caused.  Call us for a consultation at our Fort Mill, South Carolina office at 803-548-5999, or at our Charlotte, North Carolina office at 704-499-9000, or toll-free at 877-374-4444.  We will be happy to assist you with your legal issue.