Officials at Lake Murray are investigating a collision of two boats, which required medical care for two men and three children.  The incident occurred near the Lake Murray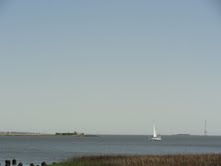 dam.
The boat in question was heading through the strait on the south side of lake, swerved and crashed into another vessel, which was anchored there.  The man who had anchored the boat had planned on spending the night with his three grandchildren; however, they spent much of the night in the hospital.
The driver of the boat that swerved was taken to Palmetto Health Center with internal bleeding, and the grandchildren were taken to the hospital and released; one of them had a broken arm.  One of the questions here is whether the boats were lit as required by the DNR after sunset, and what the reason for the swerving of the first boat was.  Officials will decide whether charges were warranted.
In South Carolina, a negligence claim is determined as to whether the person had a duty to a person or class of persons, whether that duty was breached, the causation of the harm (proximate and actual), and whether there were damages.  In this case, there was a duty to either keep the boat lit, or not to swerve while riding at night.  But, the officials still must determine who was at fault in this case, if anyone was at fault in the first place.
However, if the injuries were created as a result of the negligence of someone, there may be a personal injury claim abounding over the horizon.  If you or a loved one has suffered an injury as a result of the negligence of another, call the law offices of Reeves, Aiken & Hightower, LLP for a consultation.  You can reach our office in Baxter Village, Fort Mill, South Carolina at toll-free 877-374-4444 for more iformation.