A York County school bus driver won't be driving his regular route again until troopers finish investigating a deadly crash.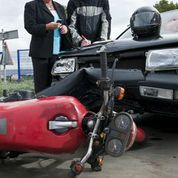 Victor Norman Nairn, 55, was killed just after 8 a.m. Wednesday when he fell from his motorcycle on Highway 161, west of Rock Hill.
Investigating troopers told Eyewitness News that a school bus from York District One pulled onto Highway 161 from Pursley Dairy Road, into the path of the motorcycle.
Nairn tried to avoid the bus, but his bike fell on its side and skidded down the highway.  He was wearing a helmet.
Fifteen students were on the bus heading to York Comprehensive High School.  Troopers said the motorcycle never struck the bus and no one on board was hurt.  However, several students did witness the horrific event.
The bus driver is said to of have an amazing driving record, but will be suspended until the investigation is concluded.
Many people/eye witnesses did not want to comment on the accident, and others who had family members involved were confused on what to say.
When someone is seriously injured in a personal injury suit, through no fault of their own, that state of South Carolina permits them to recover for their injuries under our " modofied comparative negligence laws." This law states that so long as the plaintiff was less then half responsible for the accident, they will recover for their injuries.
Often times when situations, such as the aforementioned one occurs, parents are frightened, and do not know they next step to take. Their first step should be to contact a personal injury attorney who understands the laws, and can help the families work through their suit without being ever more so burdened then they already are.
Here, the children invovled in the school bus accident would all be found to be at zero fault, as they were simply riding in the bus. They would have a strong personal injury auit against whomever the fact-finder finds to be the majorirty of the person responsbile for the injuries.
If you, or someone you know has been seriously injured in a bus or car accident, contact the law offices of Reeves, Aiken, and Hightower, LLP toll-free at 877-374-5999 toll-free for a free consultation.