Workers' Compensation is a specified amount that is paid out through your employer's liability coverage when you are injured on the job.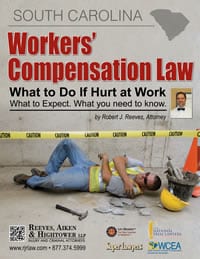 Most people find this concept confusing as is, but the way it works is once you are injured on the job, you then file a claim to receive the proper compensation. Your employer is not personally liable for your injuries, and moreover, is only liable to the extent that you file with the Workers' Compensation Committee.
At times, employers wish to fight these claims, as they debate as to whether or not the injury actually occurred on their premises, or while you were within the scope of your employment when the injury occurred.
Most people think that you can receive a larger compensation if they claim there has been obvious "pain and suffering," which would be awarded as a punitive damage.
The state of South Carolina will not allow this. Punitive damages, by definition, are to punish a defendant for his wrongdoing and malfeasance. This is contradictory to the entire concept of Workers' Compensation. The idea is that your employer should not be punished for your injuries, but rather you should be compensated out of a pre-designated fund.
Should you find yourself in a similar situation, and injured on the job, contact the law offices of Reeves, Aiken, and Hightower, LLP toll-free at 877-374-5999 for a free consultation.